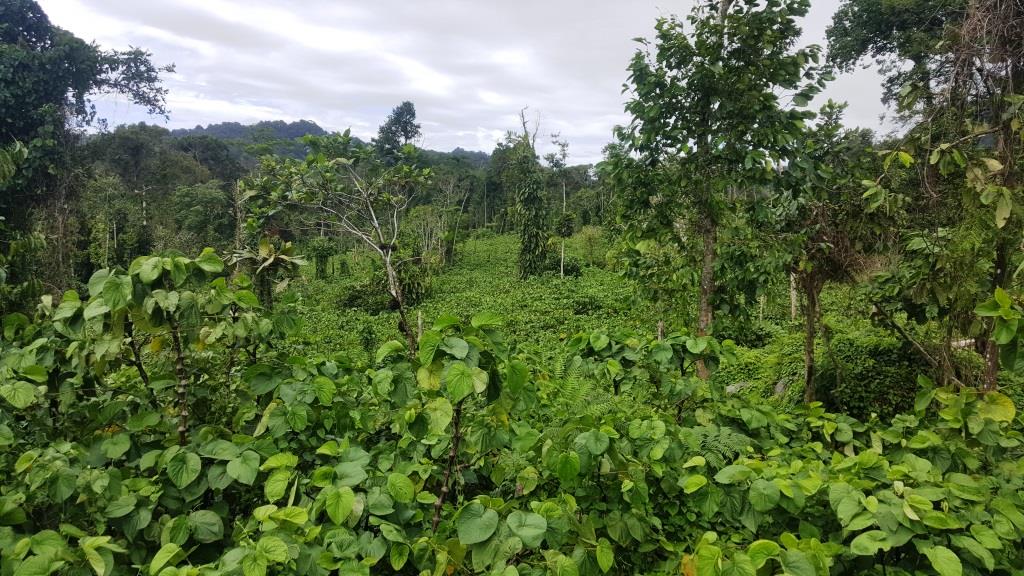 In this post we will talk about how kava is farmed in Fiji on a commercial scale. The information is based on the first-hand experience I had staying over at our Gourmet Savusavu Waka farmer's kava plantation in Savusavu. They have the largest kava plantation in Fiji. I stayed over for three days at their main farm house (out of 7 farmhouses) where there is no electricity supply. Their water supply comes from a stream up on the hill side of the valley where his farm is based. There is also no communication (cell) network. Sadly I was not able to take as many photos as I could because my cell phone kept getting to low battery and I had to ration power supply from my power bank for the 3 days. But I did manage to get some great shots and videos to put on this post.
Let me tell you a bit about our farmer. He is a 24 year old who has taken most control of the plantation which his dad started. His dad had started the plantation alone is 1980's with 4 acres of land which was given to him by his father. In the early 90's he saw that the demand for kava was growing at a level to which he could not sustain, so he decided to take out a loan to hire workers and expand his plantation. After the loan got approved he went ahead to lease another 73 acres of land to plant kava on. At this rate he kept expanding the plantation because demand kept increasing and now he has a total of 243 acres of leased land, most of which has kava planted in them. We cannot release details of our farmer because of competitive reasons, but they are very well known in Savusavu. The family is so generous that they have been paying expenses for buildings for villages nearby and have also donated fields of kava to their church group. Our farmer has about 30 employees working for them on rotational bases that come from nearby villages. There are 3 main foremen who look after the farm aside from our farmer. They are paid double of what the normal workers are paid and also get the benefit of receiving free kasa cuttings (kava nodes) to go and plant back at their farms on days off. Some of the workers also get land allocations to plant/harvest their own kava on our farmers land. Occasionally, youth groups from various locations in Fiji come by to work in the farm in return of kasa cuttings. Below is picture of a kasa cutting, the cuttings used to grow kava.
Getting back to the farming now. A typical day at the plantation starts at 5am by which time everyone is awake and ready to go into the farm. Everyone gathers for a prayer session and they are off to the farm for the morning session. Below is a picture of the briefing given by our farmer wearing a light grey shirt to one set of workers. They have 2 vehicles used to transport 2 set of workers in and out of the plantation given its huge size. It takes about 1 hour to walk from 1 end of the farm to the other up till where kava has been planted. By vehicle it takes about 15 minutes so it saves time. The road going in and out is pretty rugged and worse when it rains. So the farmer uses land cruisers to get the job done.
The morning session usually involves cleaning the fields. Our farmer has his plantation sectioned out and each section as a name eg Siberia, Kazakhstan, PNG, USA etc. They use country names to refer to each section which needs to be worked on.  Below is a video of 1 section and another farm house.
Cleaning for each section takes place once every month until the kava plant is tall enough to win competing for sunlight with other shrubs. If the plant does not get sufficient sunlight it will have a hard time growing into a fully matured plant. Below is a picture of the cleaning which occurred at one section.
The morning cleaning session usually takes around an hour or two before all the workers come back to the farm house for their breakfast. Breakfast is usually buns/bread made at the farm house the previous night with butter, jam and tea. Below is a picture of the custom built oven at the farmhouse in which the baking is done. I found it to be a very interesting design.
By 9am everyone is ready to head back to the farm. This session usually rotates around harvesting and planting kava. You would think that to run such a large operation, you would need to harvest a lot of kava plants, but it only takes 10 lovo pits to break even for the entire week. A lovo pit is a bunch of kava plants grouped together. Out of the 10 lovo pits comes about 700 kasa cuttings which are replanted to make about 35 lovo pits. In each lovo pit about 16 to 18 kasa cuttings are planted out of which 8 to 10 survive till harvest. This is the reason why each lovo pit yields a lot of kava. On a typical day, about 15 to 20 lovo pits are harvested. Below is a video of the yield which comes from 1 lovo pit.
That harvest is from a 3 year old plant. Below is a picture of how massive this plant grows to in the farm. The two guys are about 1.7m in height and they are standing on thick tree log which is giving them about 50cm additional height from the ground where the kava plants base is. I would say the plant is about 3 meters in height and its just 3 years old. When I asked my farmer about the age of the plant he was quite upfront and said its just 3 years old and many farmers all over Fiji and maybe in some other countries may show plants as such and claim that the kava is 10-12 years old when really they are not.
By 1pm all the workers have wrapped up with the work to be done and bring back the harvest loaded on the land cruisers back to the farm house. Now its lunch time and during my 3 days stay there, the lunch was boiled cassava (tapioca), boiled bele (Slippery cabbage) in coconut milk and some form of meat usually canned mackerel. The farm house is occupied by 2 workers everyday on a rotational basis whose responsibility is to cook for everyone while the rest are working on the plantation.
After lunch, workers get to work in grading, peeling, chopping and cleaning the harvest ready for the dryer which is used for drying the kava. The big lateral roots are called number 1 waka, the smaller lateral roots are called number 2 waka, sometimes the basel stems are peeled to be called white lawena, sometimes they are not peeled and are referred to as black lawena. The part which is above the basel stem till the kasa cutting is referred to as cut piece. The leftover tiny root pieces which are scraped up are referred to as "Bomb". All these parts are sold at different prices and in our farmers case to different customers. We buy only the number 1 waka which is the cream of the harvest and the most expensive! The cheapest part is the cut piece in which he mixes the white lawena peelings usually. Our Savusavu farmer reuses all the kasa cuttings to expand his farm but in other farms where land is limited, the farmers tend to sell the dried kasa cuttings too. This is referred to as "Black kasa". If these kasa cuttings are peeled, they are referred to as "white kasa". Even the peelings are sold off to some buyers and these are referred to as "Civicivi".
 Our farmer uses firewood from trees which were fell to make way for kava planting. These trees are littered around the plantation to be dried for a few months before it is cut up and taken back to the farmhouse dryer to use as a fuel source. Fire drying is necessary for commercial scale farming in savusavu or it will delay harvest times and be a problem when it rains. It rains quite a lot in Savusavu which is one of the major reasons why our farmer uses a fire dryer. Some of you may have noticed the smoky smell which comes from our Gourmet Savusavu Waka. That is because of the fire drying. Below is a picture of kava harvest being processed for the fire dryer. The processing area gets quite dirty because of the soil being washed off the kava. However, there is still dirt left on the kava which we wash off at our processing facility in Nadi using pressure washers. Most exporters in Fiji don't wash the kava and process it into powder as is. That's why you often find some Fijian kavas tasting nasty. The taste is made worse from dirt, mildew and wet/rotting kavas.
Below is a picture of the dryer from far. You can notice smoke emanating from the dryer. Our farmer and I had a discussion about this and we have bought him some exhaust fans to use on a chimney he plans to build to remove smoke from the burning chamber. He still is working on getting that set up.
Below is a picture of the sketchy bridge which needs to be crossed to get to the farmhouse. Its broken ¾ of the way and is held together by cables. The stream which flows by the farm house is a source of renewable energy and on my visit I recommended them that the flow of the stream which is greater towards another end can be used to generate electricity to power up the farmhouse. We are still working on finding a solution to this as the stream floods under heavy rain.
Once the kava has been set in the dryer, it's a waiting game. It takes about 10 hours for the kava to sufficiently dry before it's taken out from the dryer and placed out in the sun to remove most of the smoky smell. A worker tends to the dryer from time to time throughout the night to see if it has enough firewood. The kava is prepped by 6pm ready for the fire dryer and placed in it overnight for drying. By 4am it is removed from the dryer and laid out to sun for the next morning for a few hours. After this the kava is put into the bulk all laid out. It is bagged the following morning when the kava has absorbed some moisture back. This is done to preserve the roots from breaking up during bagging. In Fiji, the roots are the premium product of the kava plant and are typically laid out on table tops in the market for display. Fully intact roots are more appealing to buyers and attract more value than broken up roots. Below is a picture of how kava roots are displayed in the market.
Dinner for the workers is always a heavy one. The farmhouse has a chicken coup which feeds the workers in terms of providing eggs and chicken meat. All meals for workers are provided by our farmer. The plantation location is very remote. It takes about 45 minutes to get to the farm from Savusavu Town. The plantation is truly remarkable. In the 15 minute drive towards the end of the farm from the beginning you will see kava planted on both sides of the road extending up to the hills with a depth of maybe 500 - 600m. It is indeed the largest kava plantation in Fiji and we are glad to be one of the very few selected customers of our Savusavu farmer.
I hope this has been an interesting read and you have gained more knowledge about how kava is commercially farmed in Fiji.