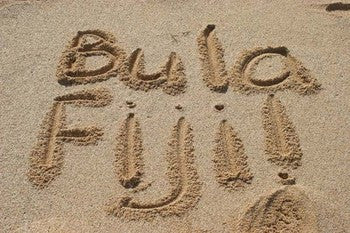 Bula, like the Italian prego or the Hawaiian aloha, is a word in the Fijian language that is now imbued with a variety of meanings, each of which depend on the given the situation. The word (pronounced as boolah) literally means "life" and is most commonly used as a greeting, meaning "hello!" Using bula in this way is to express wishes for one's good health; the full saying is "Ni sa bula vinaka," (pronounced as nee-sahm-bula-veenaka) which equates to "wishing you happiness and good health." An appropriate response to bula in this context is "Bula vinaka."  The word is also used as a blessing when someone sneezes.
Many resorts will great new guests by playing "Bula Malaya," an emphatic song of welcome that embodies the connotation of warmth and island hospitality that is palpable in the word's usage.The word bula so successfully captures a feeling of affection and welcome that the Fiji Visitors Bureau along with the help of the Tourist Action Group (TAG) used it in a 2007 campaign called "Bula Spirit." The following description of the theme "Bula Spirit" was given at the campaign's launch: "A commitment to make that extra effort to ensure that the visitor enjoys the very best in hospitality, warm thoughtful service and the kindness that has made Fiji special among destinations in the world."
Bula Spirit
The "Bula Spirit" intention is to promote a high level of customer service in Fiji. TAG and the Government of Fiji see this as an important initiative to help promote tourism during a time when the nation's reputation risks being tarnished by the effects of a recent military coup and an economic crisis. TAG Chairman Damend Gounder said in 2007 that the organization had conducted several trainings throughout Nadi, Suva, the Coral Coast, as well as the Yasawas and Mamanucas islands to help spread the spirit of bula. The goal of the campaign, he said, is that "when the tourists come in, despite what has happened here, the delivery of service [should be] beyond the extraordinary."  Fans of the show "Survivor" might recall the word bula from the "Survivor: Fiji" season. When the members of the tribes Moto and Ravu were merged into one group in episode nine, the new tribe took the name Bula, Bula, adding, perhaps, the concept of "unity" as another hue of meaning to the word bula.